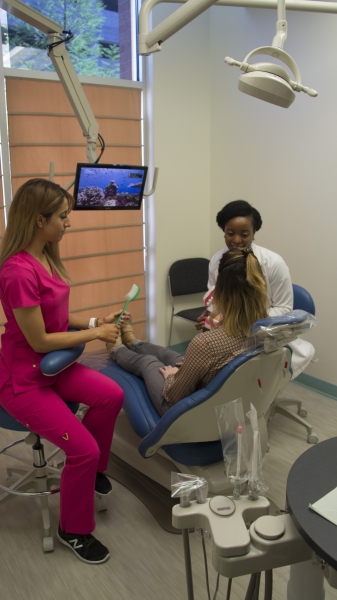 There are many comedies with funny scenes that take place in a dental office and commercials that show a white coat professional sitting next to a person with their mouth open. We all have a picture in mind of what our dental visit will be like. Some scary, others pleasant, and nice. A dental visit can be a comfortable and smooth process if all or most of our expectations are communicated with the dental team.
During the first phone call, it is important to mention main concerns or reasons for the appointment. This is a good time to mention "I enjoy going to the dentist," "This is my first time seeing a dentist," "I bit off a dentist's finger when I was a kid," "I am nervous," etc. However funny or awkward it may feel to say what is on your mind, just be assured that we have heard it all. Mentioning any worries or previous experiences helps the dentist and assistant prepare to care for your dental health and provide a setting that keeps your mind at ease.
After the first phone call, forms can be filled out before the appointment. Forms provide a snapshot of the patient's health and/or dental background. It is important to list health conditions that require special care, appointment times, or pre-medication.
After the forms, it is time to meet the dentist and hygienist. The first meeting in person is a great time to go over concerns that are tooth related or non-dental. Previous dental experiences can be discussed to give the dentist a picture of what we have in mind as the patient. A good discussion is the beginning of a healthy doctor- patient relationship. And allows for the dental team to give customized and professional guidance on the patient's oral health.
Here at Museum Smiles, we focus on the patient's well-being, dental, and overall wellness. Our dental office is located within a few minutes of Downtown Fort Worth, and we are within walking distance of the Modern Art Museum. Call us to schedule a dental visit. We understand that many adults have had varying lengths of time lapse since their last dental appointment. Technology has improved significantly to improve the patient experience. An initial consult appointment can provide you with a preview of what to expect. And the result is a beautiful and confident smile.