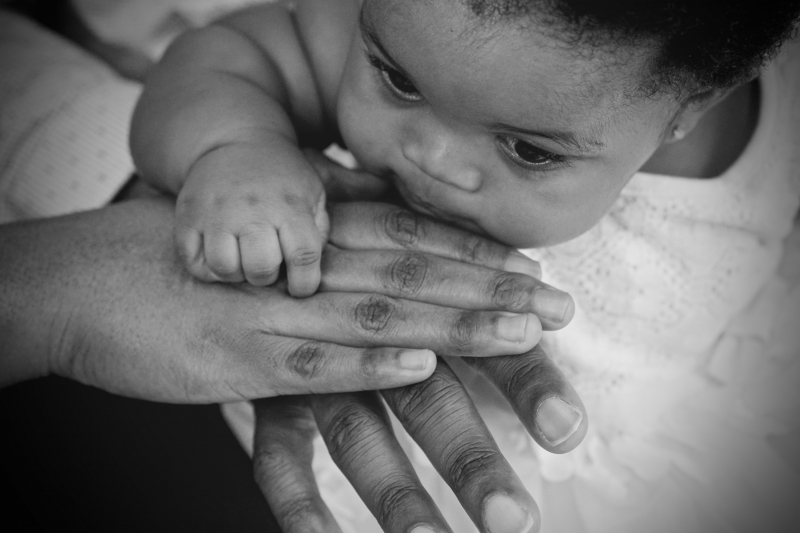 Here at Museum Smiles, we love little babies and enjoy their first dental home visits! Children should visit the dentist after 6 months and before their first birthday to have their teeth and gums checked for healthy development. Children can be very uncomfortable while teething.
There are some measures to avoid while your baby is teething. It is helpful to use a cold or refrigerated teething ring but not a frozen teething ring. A frozen teething ring can lead to frost bite of teeth and gums. And avoid teething rings with fluid content. The fluid may leak and contain harmful bacteria to your baby. Teething rings that contain small pieces like beads can get separated or dislodged so it is advisable to choose simple teething rings.
Babies find it soothing to have food rub on their gum tissue when they are teething. However, be careful with any food. My 5 month old broke a small piece off a large apple with just her gums and no signs of teeth in her mouth. Small pieces of food for an infant can be a choking hazard. 
It is normal for some teeth to be fully developed before birth before they present in the mouth. Some babies are born with a few teeth showing. And while teeth are pushing through the gum tissue, a cyst may cover the erupting tooth. Eruption cysts do not require any treatment. They usually resolve on their own. A fever and/or rash is not a normal side effect of teething. If this happens, contact your pediatrician whether the baby is teething or not.
During your baby's dental visit, the dentist will check for sore areas in their gum tissue, any signs of thrush/oral candidiasis, or baby bottle decay. Baby bottle decay also known as early childhood caries often presents when babies fall asleep with a bottle in their mouth. It begins with white spots around their front teeth and gradually changes color. This can be prevented by wiping baby teeth after their nighttime feeding with a wet gauze. Water helps balance the pH in the mouth and reduce the effects of acidity from milk.
Brush your child's teeth at night before bed and use fluoride free toothpaste until they learn to spit out toothpaste. If a child ingests an excessive amount of toothpaste, it can cause dental fluorosis and affect the appearance of their enamel.
 Schedule a preventive dental appointment with us and we can discuss your baby's oral health. Baby teeth matter! 
We proudly provide dental care to families in Fort Worth, Arlington, and Keller. We can be your family dentist in Fort Worth.