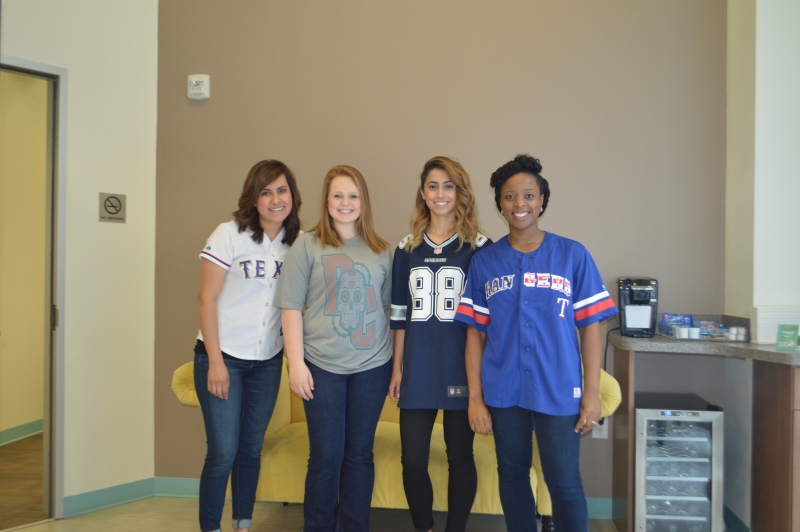 We have talked about all the teams that we support here at Museum Smiles. Some of the teams we support may be rivals but as long as they are not playing against each other, it is an easy pick! Dr. Audu is proud alum of Baylor University, where she met her husband, who once played football as a Baylor Bear. Nowadays, they cheer Baylor teams on from the sidelines and bleed green and yellow.
Dr. Audu and her husband are such Baylor team fanatics, that they drove 15 hours to Glendale, Arizona to watch Baylor take on University of Central Florida in the Fiesta Bowl game. We will not discuss that game much for understandable reasons. Although we support the TCU horned frogs, it was not an exciting end to a season when Baylor Nation has to share the title of Big 12 champions with TCU. Apparently, it is not too uncommon to have 2 rival teams as favorites.
Both TCU and Baylor teams are near and dear to Museum Smiles, but more the latter team. As for the NBA teams, how can we support the Mavericks, Spurs, and the Cavaliers. After living in DFW for years, we are very proud of our Dallas Mavericks. They bring their best every year, especially in 2011, when they won their first NBA championship.  Dr. Audu grew up in San Antonio and remembers the city's calls to keep Tim Duncan in San Antonio. The Spurs team brought so much positive attention to the city. If neither the Spurs nor Mavericks, are in the finals, the Cavaliers are the next up for our support in our office. They have a star player, Lebron James, who looks like Huston, Dr. Audu's husband. You have to meet him to see the resemblance!
We not only support university or league teams, but we also support our local high school football teams. If you are an Arlington Heights Yellow Jacket, Paschal Panther, or a Brewer Bear, you are in good company at our dental office. We would love to be your family dentist. And encourage our athletes to have form fitting mouthguards, and safety gear. We proudly serve families in Arlington, Keller, and Fort Worth Area. Providing dental care, and treating any dental emergencies that may arise. Our dental office is located within walking distance of the Modern Art Museum. Schedule an appointment with your Fort Worth Dentist, and be smile ready for the next game you attend. Sic'Em Bears!